My Blog
Posts for: October, 2014
By Johns, Conde, & Malone Family Dentistry
October 29, 2014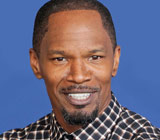 If you were a well-known actor, how far would you go to get inside the character you're playing in a movie? Plenty of stars have gained or lost weight to fit the role; some have tried to relate to their character by giving up creature comforts, going through boot camp, even trying out another occupation for a time. But when Jamie Foxx played a homeless musician in the 2009 film The Soloist, he went even further: He had part of his front tooth chipped out!
"My teeth are just so big and white — a homeless person would never have them," he told an interviewer. "I just wanted to come up with something to make the part unique. I had one [tooth] chipped out with a chisel."
Now, even if you're trying to be a successful actor, we're not suggesting you have your teeth chipped intentionally. However, if you have a tooth that has been chipped accidentally, we want you to know that we can repair it beautifully. One way to do that is with cosmetic bonding.
Bonding uses tooth-colored materials called "composite resins" (because they contain a mixture of plastic and glass) to replace missing tooth structure. The composite actually bonds, or becomes one, with the rest of the tooth.
Composite resins come in a variety of lifelike tooth shades, making it virtually impossible to distinguish the bonded tooth from its neighbors. Though bonding will not last as long as a dental veneer, it also does not require the involvement of a dental laboratory and, most often, can be done with minor reshaping of the tooth.
Cosmetic Bonding for Chipped Teeth
A chipped tooth can usually be bonded in a single visit to the dental office. First, the surface of the tooth may be beveled slightly with a drill, and then it is cleaned. Next, it is "etched" with an acidic gel that opens up tiny pores. After the etching gel is rinsed off, the liquid composite resin in a well-matched shade is painted on in a thin layer, filling these tiny pores to create a strong bond. A special curing light is used to harden this bonding material. Once the first layer is cured, another layer is painted on and cured. Layers can continue to be built up until the restoration has the necessary thickness. The bonding material is then shaped and polished. The whole procedure takes only about 30 minutes!
If you have questions about cosmetic bonding, please contact us or schedule an appointment for a consultation. You can also learn more by reading the Dear Doctor magazine articles "Repairing Chipped Teeth" and "Artistic Repair of Chipped Teeth With Composite Resin."
By Johns, Conde, & Malone Family Dentistry
October 14, 2014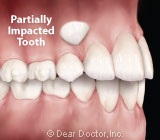 There are only a few teeth that are known by nicknames. The big, late-blooming third molars ("wisdom teeth") are one set; another set is the sharply-pointed canines, also called the "eyeteeth". These two sets of teeth have something else in common: They can both suffer from the failure to develop in the proper place. Impacted wisdom teeth are a well known problem; impacted canines, however, are an issue that's seen less frequently — but can often be effectively treated without extraction (removal).
What does the term "impacted" mean? In dental terminology, it indicates a tooth that is growing in a position where it can't erupt (grow in to the bite) properly. This sometimes happens in cases where the bite is "crowded" — that is, where there isn't enough space in the jaw for all of the teeth to develop properly. An impacted tooth remains "buried" to some extent in the tissues of the gums and jaw. It may eventually cause various problems with the roots of neighboring teeth, or even form a cyst (fluid-filled sac). That's why treatment of impacted teeth is so important.
Impacted third molars (wisdom teeth) are generally removed (extracted), and are rarely missed. Canines, however, are located near the front of the mouth, forming an important component of an aesthetically pleasing smile. Therefore, whenever possible, it's preferable to bring these teeth into good alignment with the rest of the smile rather than remove them. How is this done?
The process begins with a series of radiographic images (x-rays or CT scans) that show the exact positions of the affected teeth. Next, a minor surgical procedure, performed under local anesthesia, is used to expose the crowns (surfaces) of the impacted teeth. Then, a bracket is bonded to the surface of the tooth, which can be attached to orthodontic appliances. These appliances will, in time, move the tooth into a better position.
Impacted canines can be a serious problem — but the good news is that, with the proper treatment, it's often possible to bring them into alignment with the rest of your smile. If you would like more information about treating impacted canine teeth, call our office for a consultation. You can learn more in the Dear Doctor magazine article "Exposing Impacted Canines."